If you're reading this blog, you've probably figured out we like measuring stuff – specifically Wi-Fi performance from the user perspective. In June 2015 we took a stab at measuring something much less scientific, namely users' requirements and expectations of their wireless networks.
So we polled a random sample of end-users across a range of industries in the US, and asked them to tell us how they felt about the reliability and performance of their networks. The 210 respondents all had a graduate degree, and were full-time employees of businesses with more than 200 employees. Average age was 42 and average household income was $107K.  Here is what they told us:
How Wi-Fi is used
To set the scene, we asked about the devices they were using to connect to the company Wi-Fi and what they were using it for. There were no surprises here. As we expected, many businesses had acquiesced to BYOD and smartphones and tablets outnumbered laptops 2:1.
Check all of the mobile devices you connect to the Wi-Fi at work:
As the device population shifts in favor of smartphones and tablets, it is important to realize that performance problems are generally more acute on these devices, because they usually have only one antenna and cannot support multiple streams, whereas modern laptops are often two- or three-stream capable. Check out the analysis of device capabilities in our 802.11ac migration guide.
When it comes to Wi-Fi Internet usage, rank order your activities:
As for how these devices were used, between 6% and 9% of respondents identified video conferencing, web collaboration and voice over IP among their top two use cases. For these real-time applications reliability and performance is all the more important, especially since inadequate performance affects not just one person, but all participants engaged in the call or collaborative event.
Now onto the more meaty questions!
Importance of Reliability
84% believed that Wi-Fi reliability was extremely or very important to their daily productivity.
How important is reliable Wi-Fi to your productivity at work?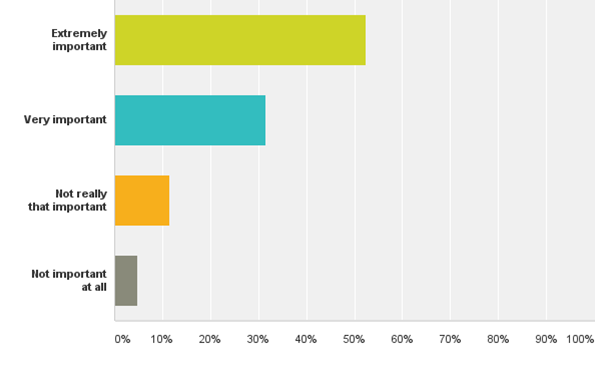 Important Wi-Fi Attributes
When asked to rank order the most important attributes for their WLAN, speed and security out-ranked coverage. Most WLAN deployments historically have focused on providing ubiquitous coverage first. This may be the right approach in highly mobile environments such as healthcare and education and logistics, but in carpeted offices people tend to move then sit, they are not continually on the move, so a dead spot in a hallway is such not a big deal. If money is tight, focus on capacity over coverage.
Wi-Fi Performance Complaints
While only 27% reported they complained about Wi-Fi performance frequently or all the time, a full 40% admitted that they occasionally had cause for complaint as well.
How often do you complain (to yourself or others) about the performance of the Wi-Fi at work?
Fortunately complaints were mostly channeled in the right direction, giving IT a fighting chance to sort it out. Over two-thirds of respondents said they took the trouble to report the problems to IT, rather than just ignoring them.
What do you do next when you have an issue with the Wi-Fi at work? (Choose 2):
Wi-Fi Problem Resolution
Unfortunately, as you know, Wi-Fi is hard to troubleshoot, especially after the fact. Sometimes the cause is not the network at all, but driver issues on the device (as we have witnessed recently with various versions of iOS). Despite IT's best efforts, 26% of respondents believe their Wi-Fi issues never get fully resolved, and must resort to moving to another area where Wi-Fi is working better.
When you have a Wi-Fi issue at work, how does it generally get resolved?
How to Improve the WLAN
In conclusion, we asked respondents how they hoped IT would improve the network. The clearly indicated performance and reliability were significantly more important than better security and increased coverage.
How do you want your office to invest in improving the Wi-Fi network? (choose 2)
Summary
Wi-Fi has become a mission critical resource in many businesses. While this is obvious for highly mobile industries, even carpeted enterprises are fully committed to cutting the cord completely. If you are in IT, it's your job to ensure that Wi-Fi is a reliable as running water, and never becomes a business liability. But as we all know, maintaining a reliable Wi-Fi network is not your only job, you wear a lot of other hats.
At 7signal, our mission is to help you give users the performance and reliability they need, without spending your life troubleshooting the network, so you can actually do your day job!  If you're not ready for a full-blown Wi-Fi performance management system, here is one place you can start to improve the user experience. Learn the DOs n' DON'Ts of Wi-Fi Antenna Selection and Placement